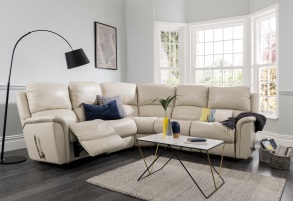 We've just launched our brand new Originals Collection – available at independent furniture stores throughout the UK and Ireland.  You can find your nearest store with our stockist locator tool.
Here's a summary of what's new from La-Z-Boy UK with Originals, and why it's this year's hottest sofa range.
Exclusive comfort
This is the first high street collection in more than 10 years to feature the patented La-Z-Boy handle recline mechanism.  Our handle models allow a unique relaxation experience.  The backrest and footrest work totally independently to allow a personalised reclining position.  A ratchet mechanism allows you to comfortably slide the seat forward while the back rest moves in harmony with your body, meaning your lumbar region is fully supported at all times.  The three-position handle can then be utilised to select a comfortable footrest angle.  Everything about this range is designed to give you unbeatable comfort!
A four-sided frame gives the handle products additional strength and durability, and adjustable wingnuts allow for the ideal tension to be reached for individual preference.
A world of choice
You're spoilt for choice with this collection.  Every single product in the six ranges in the Originals Collection is available as a handle recliner, power recliner or static model, each range also featuring a rocker recliner chair or power swivel chair.  And every model can be purchased in any of our brand new swatch selection, featuring 70 luxury fabrics and four grades of leather in 56 colourways.
The branded La-Z-Boy handles are available in a wood or chrome finish, for a further personal touch.
Committed to quality
We've gone further than ever before to offer the highest quality La-Z-Boy products.  All La-Z-Boy Originals products feature micro pocket springs, generously spread across all seat cushions – more than any other La-Z-Boy collection before.  This not only gives you a comfortable and supportive sit, it makes pressure consistent across all products in the entire collection, and means your sofa will be resistant to sagging of cushions.
Designed for you
Our Originals Collection is designed specifically for our UK and Irish customers, taking account of preferred style and sizes.  We want to bring you our very best, latest designs.