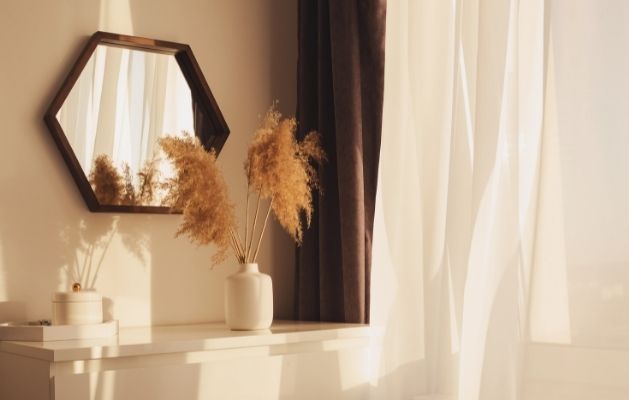 Are you planning to give your home a new look during 2022?
Whether you are thinking about freshening up your living room or giving it a complete makeover, these interior trends for 2022 might give you the inspiration you need.
Very Peri purple
Every year Pantone names a colour of the year and the shade for 2022 is Very Peri-  a blend of blue and purple. Some people describe the colour as a blue-tinted purple, while others refer to it as a bold blue with a violet undertone. Either way, Very Peri will be a popular new addition to homes in 2022. As it is a striking colour, you probably don't want to add too much to the room as it could be overwhelming. One simple way to embrace the trend is with accent furniture or accessories like cushions, throws, bowls and vases. You could also use it to paint a statement wall or feature in your living room. As it is a deep colour, it works well paired with whites and muted neutral shades.
Going natural
Being shut inside for so long due to the Covid-19 pandemic has made everyone yearn for nature and the great outdoors. Biophilic designs, which seek to incorporate nature into homes, are big news in 2022. Bring plenty of plants into your living space and look at ways you can embrace natural lighting and ventilation. Opt for muted shades of green and natural materials like pampas, wood, rattan, wicker, cork and stone.
Tradition and nostalgia
In a world full of chaos and uncertainty, it is no surprise that people are longing for a bit of old-fashioned comfort, nostalgia and tradition. Investing in antique or antique-style furniture is one simple way of following this trend. Roll arm sofas like the ones in La-Z-Boy's Vienna range fit in well with this look as well as wingback chairs. Add detailed ornaments and traditional accessories like lamps and patterned textiles to your living room for a traditional twist.
Live with less
In 2022, most people are keen to cut down on the clutter and live with less. Making the most of what you have rather than buying lots of new stuff is a key theme for the year ahead. This may see people downsizing or becoming more creative with their space. This could involve giving rooms more than one purpose like incorporating an office area into a living room. La-Z-Boy's range of swivel chairs were designed for these kind of multifunctional living spaces where people want the freedom to relax and work in the same room of their home.
Luxury bathrooms
During 2021, the bathroom was the most renovated room throughout the UK with people looking to add luxury to their homes. And creating a swish hotel-style bathroom is on the to-do lists of many homeowners in 2022. Increasing numbers of people want to turn their bathroom into a haven of relaxation rather than just a functional space. To achieve your own spa-style bathroom, you could add tactile natural materials like natural stone or wood. If you're planning to completely remodel the space, you might want to swap your existing tub for a freestanding bath and look at installing a sauna shower for that added wow factor. Underfloor heating is also set to be a popular new addition to bathrooms in 2022 along with installing electric heating panels under wall tiles to make the room warmer and reduce the need for heated towel rails.