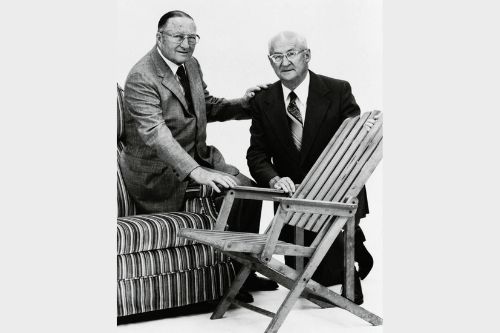 This week is the 95th anniversary of La-Z-Boy! So, sit back, recline, and relax as you read a few facts about how the company, home to the iconic recliner came to fruition…
The company was first launched in 1927 by two cousins from Monroe, MI - Edward Knabusch and Edwin Shoemaker.
They started up in their garage and quickly outgrew it. As a result, they built a plant in a cornfield called 'Floral City Furniture Co.'
In 1928, the cousins began making a reclining wood-slat porch chair described at La-Z-Boy as "The most momentous event in the history of relaxation."
Initial name suggestions included: Comfort Carrier, Sit-N-Snooze and Slat Back, but they eventually settled on the La-Z-Boy.
The seats became upholstered when a store in Ohio refused to buy the chair as it was a summer seat and not an all year round purchase, and this was a pivotal move for the cousins and company as we all know. 
Despite the depression, they decided to take a risk and open a store. The store proved such a success that by 1930 the company had tripled in size which for that era, was unheard of. 
Finally, in 1941, the company officially changed its name to The La-Z-Boy Chair Co and focused its efforts on forever improving their recliner chairs, an approach we take even to this day - innovation. 
The rest is really history and we are very happy to be celebrating 95 years of that. 
So, thank you to Edward Knabusch and Edwin Shoemaker for introducing the world to the ultimate way of relaxing. In a La-Z-Boy recline. An upholstered chair rather than a wooden slatted chair! Here's to the next 95 years. 
Browse our La-Z-Boy UK ranges and check out our stockists so you can experience the La-Z-Boy UK comfort, quality, style and innovation in your own home. 
Designed and Manufactured in Britain
The Made in Britain campaign is a movement designed to bring together the manufacturing community in the UK, awarding companies who manufacture their products in Britain a collective mark we can use on our products and communications.
The mark proudly demonstrates La-Z-Boy's commitment to supporting the local economy and community.
You can identify our UK manufactured products by the Made in Britain flag on the product's photos.
We launch new ranges throughout the year, so be sure to follow us on social media and check back to keep up-to-date with our new products.