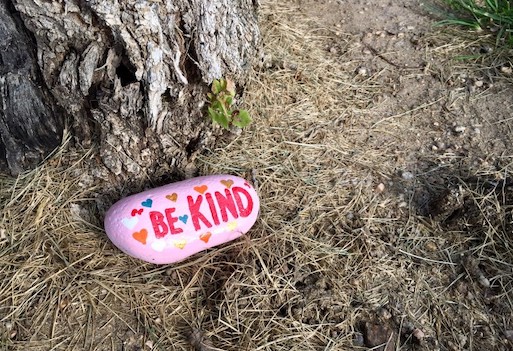 Kindness is good for your relationships, the society you live in and also your own mental wellbeing.
November 13 is World Kindness Day, a date in the calendar designed to promote good deeds and selfless behaviour. Treating others well not only helps them, it also makes you feel better about yourself too.
Being kind boosts your levels of serotonin  - the feel-good hormone associated with happiness – and oxytocin – often referred to as the love hormone. And doing things for others doesn't have to involve complicated plans or grand gestures, there are plenty of ways you can be kind right now:
Smile at strangers
This is probably one of the simplest ways you can spread kindness and positivity wherever you go. Most of us are finding 2020 tough, so while you're out on your daily exercise, a warm smile or a hello could make someone's day. It is easy to go about your daily life ignoring the world around you so reaching out and showing someone that you have noticed them and acknowledged them can really make a difference.
Do something nice without being asked
Taking a moment to do something for someone else without being asked is an effective way of being kinder. This could be anything from letting someone jump ahead of you in a queue, offering to fetch a neighbour's shopping or filling your partner's car up with petrol. Random acts of kindness don't have to be expensive and extravagant. Look for ways you can help and do it for the joy of being kind rather than to earn gratitude and praise.
Donate to a good cause
Supporting a charity allows them to carry out vital work which makes the society we live in a better place. Choose a good cause you believe in and set up a regular direct debit or make a one-off donation you can afford. If money is tight, pop your spare change into a collection box or sort out some of your unwanted clothes or household items to give to a charity shop when they reopen. You could spend some time in lockdown investigating volunteering for an organisation which helps others.
Be kind to your home
Being kind starts at home and looking after your property and the things inside it will also help you feel more positive. Give your home a deep clean, take some time to tend to your houseplants or upcycle a piece of old, neglected furniture. Well-used pieces of furniture like sofas and armchairs often get ignored during the usual housework routine so make a conscious effort to clean them by wiping with a soft cloth. If you have a leather suite, invest in a leather care kit to keep it looking at its best. For fabric sofas, vacuum the upholstery and then go over it with a soft brush.
Phone a friend
In the days of instant messaging and social media apps, it can be easy to forget to actually talk to our friends. Pick up the phone and call a friend and find out what is going on in their lives. Take time to really listen to any problems they may have and show you care by being interested in their news.  You could also send a handwritten card or letter to show someone you are thinking of them.