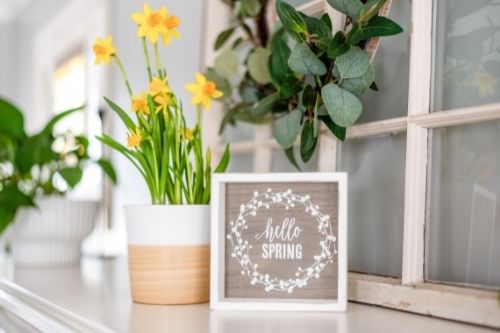 Spring has officially sprung and it's time to welcome the new season by inviting it into your living room.
Sunday marked the first day of spring for the Northern Hemisphere and we are getting ready to move onto British Summer Time when the clocks go forward an hour on Sunday, March 27. This means it is a perfect time to shake off the winter blues and give your home a new lease of life.
Display spring blooms
When you think of spring, one of the first things that comes to mind is probably growth. Trees start to regain their leaves and beautiful flowers emerge as the weather gets warmer. Bringing these seasonal flowers into your home is a quick and simple way of adding life and colour to your living room. Daffodils are one of the most obvious choices and are readily available at this time of year. However, there are many more options to pick from including tulips, crocuses, primroses and hyacinths.
Add a splash of colour
One way of bring spring indoors is to add some nature-inspired colours. If you're not ready to give your living room a total makeover, add some accent pieces and colourful accessories like cushions, lamps and candles. Greens, yellows and sky blues help capture that feeling of spring. Yellow is the cheeriest spring colour but if you prefer something more neutral, pebble greys and blush pinks work well too.
Opt for floral prints
Fresh flowers only look their best for a matter of days so if you want something longer lasting, you can go for floral prints. Bright florals work well as wallpapers and fabrics, although you may want to limit them to statement walls and pieces. You could also hang some spring-inspired artwork on your walls.
Say hello to houseplants
Adding lots of foliage and greenery to your living room with houseplants will help you embrace the spring look. Plants can also make the space healthier too as they add oxygen to the air in the room.
Adopt an animal theme
The start of spring is also associated with baby animals so adding some wildlife-inspired prints, accessories and pictures can help complete your seasonal makeover. Chick, lambs, rabbits and hares are popular springtime choices, although any animal or bird theme will work well.
Decorate for Easter
Seasonal decorations are not just for Christmas. There are now a wide range of Easter decorations including wreaths to hang on your door. Bowls and baskets filled with coloured eggs work well and can be placed around the room. You can make your own Easter tree with some twigs or buy an artificial one and then hang eggs, bunnies and other seasonal decorations from the branches to make a stunning centrepiece.