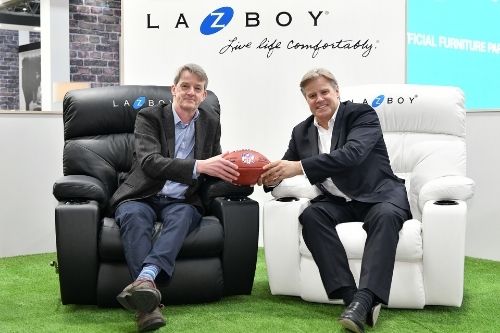 We're excited to announce that La-Z-Boy UK has become the official furniture partner of the NFL London Games.
The USA's National Football League will stage three of its 2022 season games in the capital during October.
The three-year deal will see us provide 'The best seats in the house' for the two London games at Tottenham Hotspur Stadium in addition to other branding around this stadium and Wembley Stadium where the third game is to be played. We will also become key sponsors of the Jason & Osi Podcast in which the two former NFL players and BBC pundits chat about the game.
Managing director of La-Z-Boy UK, Mark Draper, described the partnership as an ideal link-up.
"NFL fans are very dedicated to their sport and that means watching the games in comfort is a big deal. We'll not only be offering the chance to win game tickets, but providing the 'best seats in the house' so fans can enjoy a game in world-renowned La-Z-Boy comfort.
"La-Z-Boy chairs and sofas are all about celebrating time with friends and family as well as relaxing to enjoy me-time – both of which fit perfectly with the NFL fanbase. We're very excited to work closely with the NFL in the UK and Ireland and get to know NFL supporters even better."
NFL's European commercial director, Michelle Webb, commented: "We're delighted to welcome La-Z-Boy UK as our Official Furniture Partner of the NFL London Games. The brand and activation work perfectly and we're excited to see what the next three years bring for both brands."
Brand marketing director for La-Z-Boy International, Natasha Wright, added: "As La-Z-Boy approaches its 100-year anniversary in 2027, we are looking to make strategic partnerships to ensure we reach this milestone in the best possible position. 
"The NFL deal will elevate our brand in the UK and Ireland by reaching a consumer group which is in keeping with our strategic vision."
Further details of the activations and competitions will be announced throughout the year. Please check back to keep up to date with the latest news.